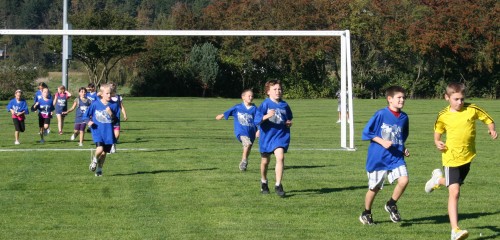 The elementary athletic school year is divided into 5 sections, each approximately 2 months in length. Our hope is that every child has the opportunity to experience being part of a team; learning and refining the physical skills associated with the sport in question and building the social skills necessary to be a contributing member of a team.
Cross-Country
Open to all boys and girls in Grades 3 through grade 5
Season is primarily mid-September through mid-October with one additional race in May that signifies the beginning of the Track and Field Season
Fall season Cross-Country races are held at: F. G. Leary Elementary School Park, Fairfield Island Park and Twin Rinks Park
Cross-Country race opening the Track and Field season is held at Cultus Lake Elementary School and the adjoining park.
Soccer
Open to all boys and girls in Grade 4 and Grade 5
Season is mid-September through the end of October
Season ending tournament is held at Townsend Park in the last week of October
Volleyball
Open to all boys and girls in Grades 5.
Season begins in mid-November and ends in the last week of January 
Season ending tournament is held at the Cheam Centre in the last week of January
Basketball
Open to all boys and girls in Grade 4 and Grade 5
Season begins in the last week of February and ends the last week of April
Season ending tournaments are held at Chilliwack Senior Secondary School and Sardis Senior Secondary School
Track and Field
Open to all boys and girls in Grades 3 through Grade 5
Season begins in the first week of May and ends in mid-June
Season ending Track and Field Meet is held at Sardis Senior Secondary School in the third week of June