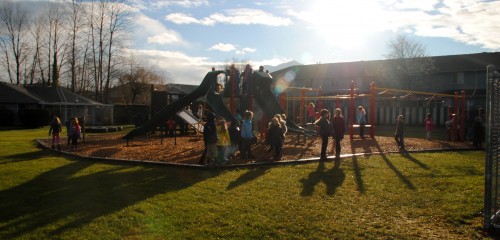 Evans Elementary School serves Kindergarten to Grade Five students and families in the residential Sardis suburb of Chilliwack, British Columbia. We believe we are a community oriented school and we strive to make the most of our small school population by reinforcing the idea of "family" throughout all aspects of our school's culture. Evans is also proud to be the home for Wind and Tide Preschool which enrols 80 children three and four years of age.
A Brief History
Since the school was originally built in 1958, Evans is now beginning its fifth decade of service to the children of Sardis. For the majority of this period, Evans was a Primary School educating students from Kindergarten to Grade Three. In its original state in 1958, Evans School operated as a three room schoolhouse. Since this time, the school has undergone considerable growth, gradually expanding by adding five portables in the early nineties.
In 1999, a major development occurred that would positively affect Evans School for many years. The Ministry of Education finally granted approval for the construction of a new Evans Elementary School. In September 2000, after a year of being housed in a wing of a neighbouring elementary school, students entered their new school for the first time. Our school presently enrols 262 students, Kindergarten through Grade 6 and an additional 78 students in Wind and Tide Pre-school.
Parents are extremely supportive of the school and take pride in working with administration and staff to ensure that their children are part of a vibrant learning environment. Moreover, a dedicated and caring staff of teachers, teacher assistants, clerical and custodial personnel work as a team in offering students a high quality of education in the important dimensions of academics and overall personal development.
With both a relatively new school building and expert personnel, Evans Elementary continues in an exciting phase of defining its school culture. The years ahead offer great potential for this school as it continues to strive to offer the best possible learning environment for its students.